ScholarWorks is San Francisco State University's institutional repository. This repository is the primary means for collecting, organizing, and sharing theses and dissertations authored by SF State students. ScholarWorks also aspires to collect and share other types of student works, faculty works, datasets, and open educational resources. ScholarWorks contains SF State theses and dissertations from 2010 to the present, as well as a few older ones. All items found within ScholarWorks are in digital format.
As a collaborative effort from the 23-campus California State University system, ScholarWorks provides not only a gateway to the student scholarship of SF State, but also student scholarship from across the CSU. ScholarWorks is primarily an open access repository. The global public can access, view, and download most works found within it. However, depositors have the option to make their work private to SF State if they so choose. 
Using ScholarWorks
Searching
ScholarWorks allows users to search for items by entering title, author, or keywords into a search box that appears at the top of every screen. 

Limiting Search Results
ScholarWorks provides users with the ability to easily limit search results using four predefined filters:
Resource Type
Campus
Department
Degree Level (for electronic theses and dissertations only)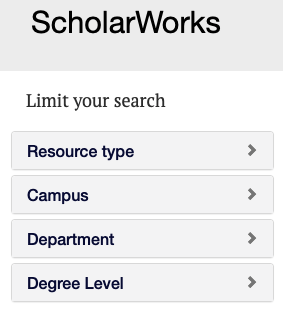 Technology in Transition
ScholarWorks is built on a robust set of software technologies. Just like homes and cars, information systems must be maintained and upgraded from time to time. ScholarWorks has been operating on the same software for the greater part of the last decade. It's time for an upgrade and this work is currently in progress! ScholarWorks is transitioning to a new technology platform that will provide greater access to more scholarship for more people. In the midst of this transition, some ScholarWorks content may be found in the old system and in the new one. Please note, that while search functionality continues to operate in the old instance of ScholarWorks, clicking on an item will redirect the user to the recently upgraded ScholarWorks. 
Criteria for Inclusion in ScholarWorks
In sharing these criteria it is our intention to provide general guidelines. We recognize that scholarship takes many forms and we wish to be as inclusive as possible while still maintaining a high standard of scholarship.
Work demonstrates a rigorous scholarly process
Examples: 
theses
dissertations 
graduate student capstone projects
articles published in a peer reviewed journal 
posters accepted to a conference 
conference proceedings 
peer reviewed books authored by faculty or students 
peer reviewed open educational resources authored by faculty or students 
student works composed with in-depth faculty mentorship 
Depositor holds the appropriate permission to share the work
Examples: 
copyright 
Creative Commons license 
publisher agreement that allows for sharing in an open access repository