ScholarWorks is the institutional repository for San Francisco State University as well as the other campuses of the 23-campus California State University system. It is the primary means for collecting, organizing, and sharing theses, dissertations, and creative works authored by SFSU students, in digital format. Other types of student and faculty works are being added such as journal articles, datasets, and open educational resources. The repository contains SFSU theses and dissertations from 2010 to the present as well as some works from previous years, by request of the authors.
Using the Print and Microfiche Collections
Printed and bound copies of recent theses and dissertations are available on the 3rd floor, while some older theses can be requested from the Library Retrieval System. Many older works also exist in microfiche format and are located in Special Collections on the 4th floor.
For detailed information on how to find print theses, see our Masters Theses and Ed.D Dissertations Collection page.
Using ScholarWorks
Some works are viewable only to the San Francisco State University community per the author's request. In these cases, ScholarWorks displays a publicly viewable metadata record for the work. San Francisco State users can log in to download the associated work. Users unaffiliated with San Francisco State who are seeking access to these embargoed works will either need to wait until the embargo period expires, request a copy of the print work through their library's interlibrary loan service, or contact the author to request a copy.
Searching
ScholarWorks allows users to search for items by entering title, author, or keywords into a search box that appears at the top of every screen. 

Limiting Search Results
ScholarWorks provides users with the ability to easily limit search results using four predefined filters: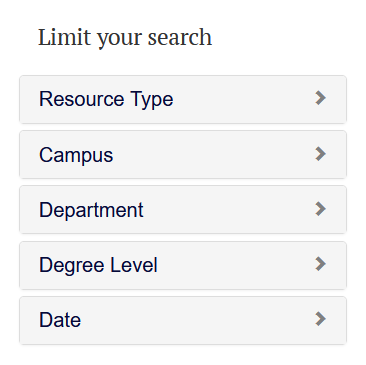 ScholarWorks Scope
In general, the CSU relies on two questions to determine the suitability of scholarship in the ScholarWorks repository: 
Has the item/content been produced by the university, or in part by someone affiliated with the university?
Was the item/content produced as part of the scholarship and research activities of the institution or those affiliated with it?
In addition to the questions of suitability, it is required that the depositor hold the appropriate permission to share the work, either through: 
Copyright 
A Creative Commons license 
A publisher agreement that allows for sharing in an open access repository
The DSC has primarily focused on populating the repository with graduate theses and dissertations but is excited to add any of the following types of work to ScholarWorks:
Electronic theses and dissertations
Other masters projects such as capstones
Data Sets
Faculty publications:

Preprints
Open access published articles
Research projects
Other scholarly work that an author may wish to share for preservation purposes, maintaining a perpetual record, making work more widely available, or self-archiving to fulfill the requirements of the California Taxpayer Access to Publicly Funded Research Act.

Undergraduate work:

Poster presentations
Conference presentations
Articles that are copyright compliant

Journals and journal articles*
Other types of scholarship affiliated with the university.
*Note that sustainable journals should utilize OJS (Open Journal Systems), a management system designed to facilitate the full publishing lifecycle of a journal.
Submitting Works to ScholarWorks
For more information, see the full CSU Content Scope Policy. If you have any questions or would like a consultation, please email us at libdsc@sfsu.edu.