The Labor Archives and Research Center is now open to the public Monday through Thursday, 1pm-5pm, and by appointment; please schedule an appointment here.
You are welcome to submit questions about our collections, alternative appointment requests, or questions about your research needs prior to you visit via email.
Instruction Requests
The faculty of Special Collections also offer instruction.  Utilizing primary source materials, Library faculty can create course-specific assignments and lead customized classes to support primary source literacy.  Faculty can request instruction through our Primary Source Instruction Request form.

Few regions can rival the rich, lively labor history of the San Francisco Bay Area. This history is preserved in primary source and vintage history materials at the Labor Archives and Research Center (LARC). Founded in 1985 by trade union leaders, historians, labor activists and university administrators, the Labor Archives is a unit of the J. Paul Leonard Library at San Francisco State University. The Labor Archives has an Advisory Board drawn from the labor, academic and community leaders of the Bay Area.
Hours
Monday through Thursday: 1-5pm and by appointment
Check hours for exceptions
Exhibits & Events
Image: Shades of LGBTQIA, San Francisco History Center, San Francisco Public Library
Screaming Queens: Drag as a Labor of Love
Join the Labor Archives in welcoming icons of San Francisco's drag community Sister Roma, Colette LeGrande, Alex U Inn, and Persia in a moderated discussion with SF State professor Sue Englander on what it takes to be a drag star, from choosing the right wardrobe to the challenges/loves of the work in these dark times.  "It ain't a party. It's time to act up."
When: Wednesday, October 11 | 3:30pm - 5:00pm
Where: Special Collections, Room 460, 1630 Holloway Ave., J. Paul Leonard Library, San Francisco State University
RSVP: larc@sfsu.edu

An Eye Towards Justice: The Photographs of Hansel Mieth and Otto Hagel   
A Labor Archives and Research Center Exhibition  
Special Collections Gallery, J. Paul Leonard Library, San Francisco State University 
Fall 2022-Fall 2023 | open Monday-Thursday 1:00pm to 5:00pm. 
Hansel Mieth and Otto Hagel created a compelling body of work documenting the critical social transformations of the 20th century in the United States from a working-class perspective. They emigrated to the United States around 1930 just as the Great Depression began and became itinerant farm laborers. Working in the fields profoundly shaped their worldview and they came to feel the purpose of their photographic work was "to contribute to an understanding of the inequities of the world." The exhibition highlights their images of the economic hardships of the depression, the transformations to the Bay Area brought by World War II, communities and individuals standing up for justice, and longshore workers facing the impact of mechanization. The work of Mieth and Hagel is relatively unknown today and our aim with the current exhibition is to celebrate and bring wider attention to their significant contributions to the canon of documentary photography. 
This exhibition was generously funded by the Friends of the J. Paul Leonard Library.

Workers United/Apart: Stories from the Frontlines of COVID-19
SF State's Labor Archives and Research Center invites you to help make a record of this critical time from the perspective of workers. Please share your stories here.
Contact
larc@sfsu.edu
(415) 405-5571
Library 460
Staff Directory
Advisory Board
Board members (Word)
Address
Labor Archives and Research Center
J. Paul Leonard Library, Room 460
San Francisco State University
1630 Holloway Avenue
San Francisco, CA 94132
Collections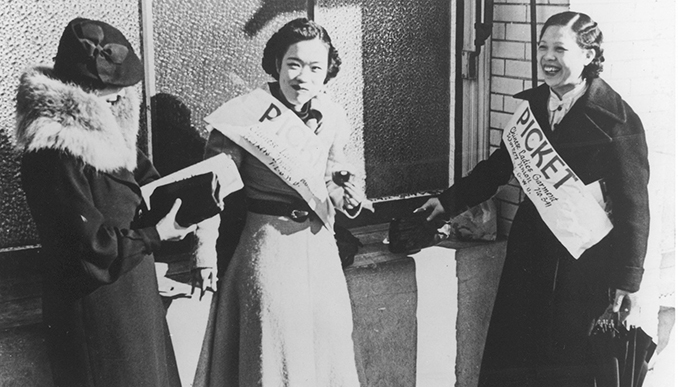 The Labor Archives collection includes materials from the counties surrounding San Francisco Bay, including Alameda, Contra Costa, Marin, San Francisco, San Mateo, and Santa Clara. More than 6,000 feet of primary source material is available for research. From the beginning of the twentieth century to the present, a wide scope of Bay Area labor activity is represented. Many unions have made the Labor Archives the official repository for their historical records -- minutes, office correspondence, membership files, publications and contracts. Labor leaders, attorneys, arbitrators, and rank-and-file workers have donated their personal papers. Personal memorabilia, photographs, ephemera, and oral histories document the lives and stories of working men and women. Visual material, in addition to photographs, includes cartoons, banners, posters, prints, handbills, picket signs, and buttons.
The San Francisco Labor Landmarks Guide Book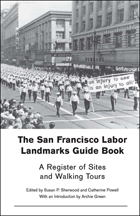 Take a tour of San Francisco's labor past and present working class neighborhoods, labor hangouts, monuments, murals, memorials, and buildings that reflect the history of the people who built the "City by the Bay."  Discover 88 different sites and five neighborhood walking tours covering an array of landmarks from the unique point of view of those who work in its stores, labor in its hotels and run its cable cars.
To order, please call or e-mail.