San Francisco State University began granting masters degrees in the 1950s. Since that time the technologies used for composing scholarship have undergone significant changes along with the technologies that libraries use to preserve and share scholarship. Consequently, the Masters Theses and Ed.D. Dissertations Collection at San Francisco State features documents in digital, print, and microfiche formats.
For Current Students
For information on the requirements for the writing, formatting, and accessibility of your thesis or dissertation project, see the Thesis Dissertation Guidelines from the Division of Graduate Studies.
Using the Digital Collection
Theses and dissertations produced after 2010, as well as some works from previous years, are largely available in open access digital format and can be found in San Francisco State University's institutional repository, ScholarWorks, along with works from other California State University institutions.
Authors of theses or dissertations that have not been digitized can request digitization provided that they grant permission to post their work to ScholarWorks. For more information, contact: libdsc@sfsu.edu
When using ScholarWorks, keep in mind that some works may be embargoed, limited to SFSU users, or private, at the discretion of the author. Theses or dissertations that have been embargoed or requested to remain private by their authors are not accessible unless the author provides written permission. At this time, the library cannot contact authors to obtain permission for scanning or sharing their work. Patrons from other libraries may be able to request theses and dissertations through their library's interlibrary services.
For more information on using the Digital Collection, see the ScholarWorks Institutional Repository page.
Visit ScholarWorks
Using the Print and Microfiche Collections
Printed and bound copies of recent theses and dissertations are available on the 3rd floor, while some older theses can be requested from the Library Retrieval System through OneSearch. Many older works also exist in microfiche format and are located in Special Collections on the 4th floor. Working with your local library you may be able to interlibrary loan a print thesis or dissertation from the library's collection.
To find masters theses from prior to 2010 using OneSearch, use Advanced Search to search Books & Media (SF State) and use both search boxes as illustrated below. In one of the boxes, search any field for "san francisco state university theses," and in the other box, search any field for whatever you are looking for: "keyword," "author," "title," etc.
You can also limit any search to printed theses by using Refine my Results to select "Theses & Dissertations (SF State) 3rd Floor" in the Location facet. 
You can also use the "*" search criteria to bring up all results of a type of documents in OneSearch, such as all print master theses and dissertations.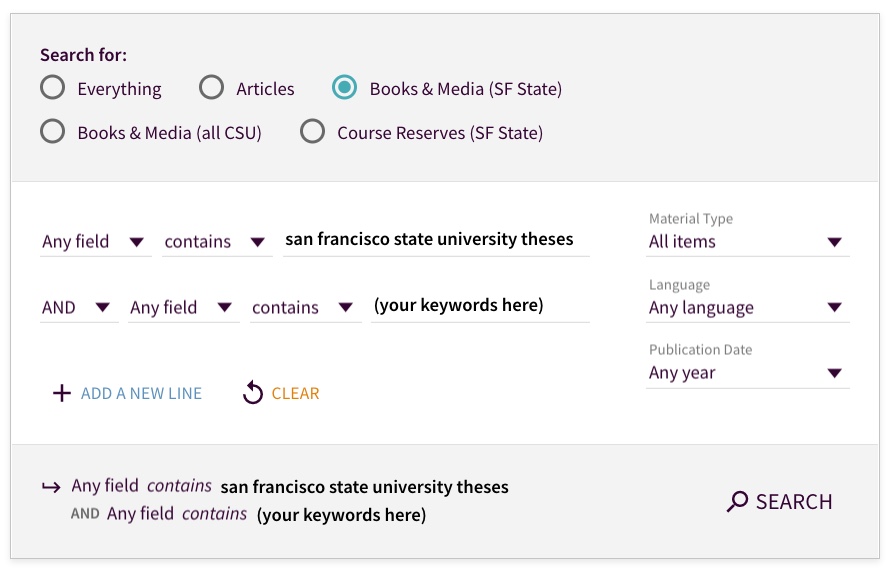 Finding Theses and Dissertations from Other Institutions
For works outside the CSU, search the Dissertations & Theses (ProQuest) database, which strives to be the authoritative resource for information about doctoral dissertations and masters theses.
Contact