The Masters Theses and Ed.D Dissertations Collection includes both masters theses and Ed.D. Educational Leadership dissertations written by San Francisco State graduate students as part of their degree requirements.
About the Collection
San Francisco State University began granting masters degrees in the 1950s. Since that time the technologies used for composing scholarship have undergone significant changes. The technologies that libraries use to preserve and share scholarship created at the institutional level have also changed. The introduction of personal computers and digital document formats have changed the way we interact with, store, and share documents. The Masters Theses and Ed.D. Dissertations Collection at San Francisco State features documents in digital, print, and microfiche formats.
Using the Digital Collection
Theses and dissertations produced after 2010 (and a few older items) are available in digital format and can be found in San Francisco State University's institutional repository, ScholarWorks. ScholarWorks provides open access to most theses and dissertations found within it, including theses and dissertations from other California State University institutions.
Some works are viewable only to the San Francisco State University community per the author's request. In these cases, ScholarWorks displays a publicly viewable metadata record for the work. San Francisco State users can log in to download the associated work. Users unaffiliated with San Francisco State who are seeking access to these embargoed works will either need to wait until the embargo period expires, request a copy of the print work through their library's interlibrary loan service, or contact the author to request a copy.
Using the Print and Microfiche Collections
Printed and bound copies of recent theses and dissertations are available on the 3rd floor and a few older print copies may be requested from the Library Retrieval System. Many older theses also exist in microfiche format and are located in Special Collections on the 4th floor.
To find masters theses from prior to 2010 using OneSearch, use Advanced Search to search Books & Media (SF State) and use both search boxes as illustrated below. In one of the boxes, search any field for san francisco state university theses, and in the other box, search any field for whatever you are looking for: keyword, author, title, etc.
You can also limit any search to printed theses by using Refine my Results to select Theses & Dissertations (SF State) 3rd Floor in the Location facet.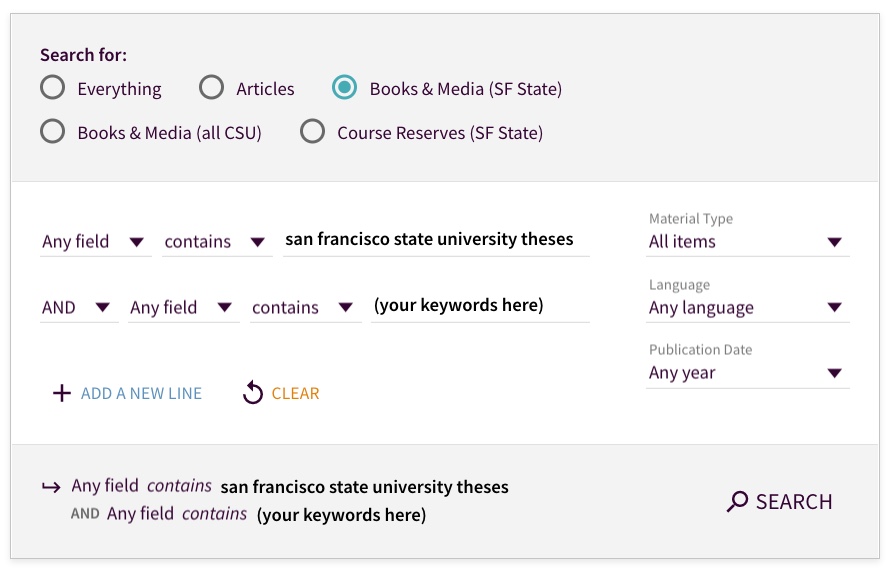 Finding Theses and Dissertations from Other Institutions
Check Dissertations & Theses (ProQuest), which strives to be the authoritative resource for information about doctoral dissertations and masters theses.
Contact
For questions related to this collection, contact the Digital Scholarship Center.