The Special Collections & Archives Reading Room is now open Monday - Thursday, 1pm-5pm, or by appointment. Please schedule an appointment here.
You are welcome to submit questions or requests via email. Please allow up to five days to respond to your email. Thank you for your patience.
Instruction Requests
The faculty of Special Collections also offer instruction.  Utilizing primary source materials, Library faculty can create course-specific assignments and lead customized classes to support primary source literacy.  Faculty can request instruction through our Primary Source Instruction Request form.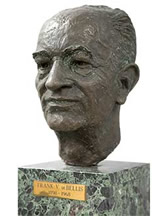 The Frank V. de Bellis Collection is a library-museum of Italian authors and subjects representing the civilization of ancient to modern Italy that form a cultural bridge between California and Italy. The de Bellis Collection, which was the first special collection to be donated to the California State University to be housed at the Library at San Francisco State is particularly strong in the areas of history, literature, the fine and applied graphic arts, and music.
Address
J. Paul Leonard Library
San Francisco State University
1630 Holloway Avenue
San Francisco, CA 94132
About this collection's strengths
Music
The core focus of the Frank V. de Bellis Collection has to be its music holdings that include unique manuscripts and unpublished works of the Neapolitan school, first editions of Baroque chamber, instrumental and vocal music, numerous opera scores and libretti, along with antique instruments and sound recordings. The de Bellis Collection has over 1,400 librettos that chronicle the literature of opera dating from 1600. The de Bellis Audio Collection is a unique cultural resource that chronicles the history of Italy's recording industry, including recordings from Berliner, Odeon, Cetra, La "Voce del Padrone," Zonophone and a nearly complete representation of Italian artists from Pathé's pre-electric output and almost the entire vocal output from Fonotipia. The Collection contains a small selection of musical instruments including a Clementi pianoforte manufactured by Muzio Clementi in London, circa 1808-1809.
Italian Literature, Graphic Design, and Typography
Beyond music scores and recordings, Frank V. de Bellis collected contemporary materials that informed composers in Italy, which intertwined vernacular language and the evolution and spreading of ideas. The de Bellis Collection houses impressive samples of illuminated manuscripts and incunabula (plural of incunabulum) published during the cradle days of printing before 1501. The de Bellis Collection chronicles production from Italy's most prestigious presses dating back to the Renaissance including classics by Aldus Manutius and competitor Giunti. The revolutionary Aldine press innovated the first pocket-sized editions featuring italic type in 1501 that allowed ideas to be more transportable.
Etruscan Artifacts
Frank V. de Bellis and SFSU professor Andreina Becker-Colonna worked together on an initiative to bring Etruscan-Roman artifacts assembled from Italian museums to San Francisco State University. Becker-Colonna selected 355 pieces of Greco-Roman-Etruscan archaeological artifacts from museums in Naples, Venetto, the Palatine Museum in Rome, the Roman Forum museums in Rome, and the museum in Syracuse to be donated to San Francisco State College. This collaboration resulted in a cultural exchange broker government that become the Frank V. de Bellis Collection at San Francisco State in 1960.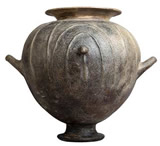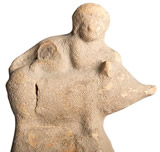 Woodcuts
The de Bellis Collection is home to a small collection of woodcuts of Italian origin that were carved between the 15th century and the Napoleonic Era discovered in a 14th century castle at Carpi, located near Modena in the Emilia region.
About the collector
Frank V. de Bellis (1898-1968) devoted most of the last 25 years of his life to philanthropic and educational projects with the purpose of informing and instructing others in the rich heritage of Italy. His radio program "Music of the Italian Masters" and his lectures were part of this effort, as was his sponsorship of free concerts and lectures by eminent Italian chamber ensembles, singers, and scholars. He could discern that music, within the context of popular culture, was both art and entertainment informed by societal values, intellectual conversations, and political economy. As a teenager, his education was interrupted when he went to serve on the Italian warfront during World War I. Frank de Bellis chose San Francisco State to be home to his collection because as a lifelong learner, he want these materials to go to an institution of higher learning where students and other interested individuals could have reasonable access to them.
Frank V. de Bellis hosting "Music of the Italian Masters" at KSMO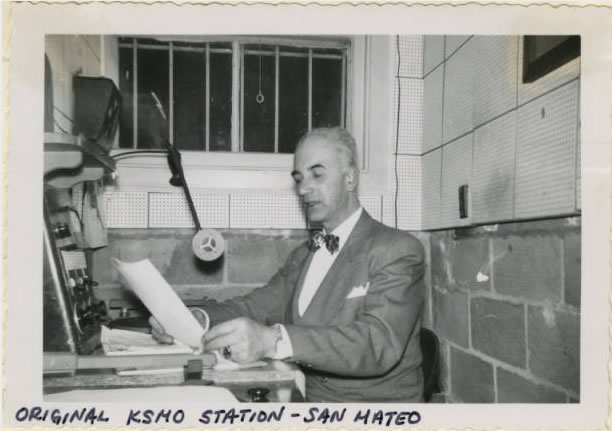 Frank V. de Bellis Collection Keepsake
The musical program keepsake "Una Riunione di Amici" in collaboration with Leonardo da Vinci Society of San Francisco was composed in 16pt Bembo, a 1929 serif typeface from the Monotype Corporation. It is a member of the old-style family of fonts, and is based on a design cut around 1495 by Francesco Griffo for the Venetian printer Aldus Manutius. Bembo is named for Manutius's first publication with it, a small 1496 book by the poet and cleric Pietro Bembo. The types used are from the printmaking room in the Art Department at SF State. The decorative musical frame is from the Frank V. de Bellis collection and was also used by Mr. de Bellis to decorate many of the musical programs he organized from the 1950s to the 1960s. The keepsake was composed by the students of the letterpress class and was printed by the instructor Pino Trogu on a Challenge 15MP Proof Press. 150 copies printed November 2016 at Stanza 153 Press, San Francisco State University.
 
A small number of keepsakes are available for purchase. To order, please call or email.