The Special Collections & Archives Reading Room is now open Monday - Thursday, 1pm - 5pm. You can also schedule an appointment here.
You are welcome to submit questions or requests via email. Please allow up to five days to respond to your email. Thank you for your patience.
Instruction Requests
The faculty of Special Collections also offer instruction.  Utilizing primary source materials, Library faculty can create course-specific assignments and lead customized classes to support primary source literacy.  Faculty can request instruction through our Primary Source Instruction Request form.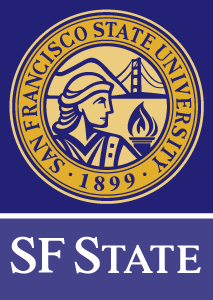 Since its inception in 1899, San Francisco State University has held a unique position as an institution of higher learning in the San Francisco Bay Area that has consistently promoted educational equity. The University Archives serves as the collective memory of San Francisco State University containing unique primary source materials about our University's colorful history.
Address
University Archives & Historic Collections
J. Paul Leonard Library
San Francisco State University
1630 Holloway Avenue
San Francisco, CA 94132
About this Collection
San Francisco State's earliest records of the Normal School founded to train teachers were destroyed in the 1906 earthquake and fire. The University Archives traces the history of San Francisco State from a vocational school for teachers to a liberal arts college to its becoming a preeminent urban university as documented with its own records, images and artifacts. We also have a small sampling of faculty and alumni papers, but do not collect any materials comprehensively. The complete archival organization for the University Archives developed by Emeritus Archivist Helene Whitson and completed May 20, 2004 has not been published online. To access these materials, please contact the University Archives.