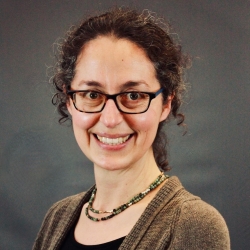 Melanie Smith
( She/Her/Hers )
First-Year Experience Librarian
Student Success and Engagement Team
Phone: (415) 338-1620
Email: smithms@sfsu.edu
Research & Instructional Services
How I Can Help
New to SF State? Check out our get-started guide to learn what you can do at the Library — and what the Library can do for you!
Email is the best way to get in touch. I check email frequently during work hours Monday through Friday.
You can also meet with me at the Library or on Zoom to get help with your research projects: Schedule an appointment
Ask Me About
Library outreach and communication
Citation styles and reference lists
Open educational practices
Tolkien's Middle-earth
Pros and cons of the Oxford comma
Research and Publications
Rusk, F., Borges, E., Maxwell, J., & Smith, M. (2023, March 17). High-impact information literacy collaborations for student success [Poster]. ACRL 2023, Pittsburgh, PA. 
Smith, M. M., & McNary, O. (2022, December). U.S. national and interstate bicycle routes. Documents to the People, 50(4), https://doi.org/10.5860/dttp.v50i4.7937.
Ray, L., & Smith, M. (2022, October 20). What OER authors want: Lessons from an OER publishing platform user survey [Conference session]. Open Education Conference 2022, online.
Education
Master of Library & Information Science, University of Washington Information School
Bachelor of Arts, Literature/Writing, University of California, San Diego